Aug - 27
2010
RIP SRV
Twenty years ago today, I woke up early to find the radio playing a song by Stevie Ray Vaughan.  "Pretty cool", I thought.  I really liked SRV, to the point of having sold two guitars to pay for a Fender Stratocaster that summer, mainly based on the fact that Stevie and Eric Clapton (two of my main influences on the instrument) played one.  The station followed that by playing another song by Stevie Ray.  "Awesome!  A double shot Monday" was my natural thought.  Then the DJ announced that there had been a helicopter crash early in the morning in Wisconsin, and that Stevie Ray Vaughan was dead at the age of 36.  The impact of his early, unexpected demise reverberated around the world, and I, for one, am still somewhat in shock.
Stevie Ray Vaughan grew up in Dallas, Texas and became a guitar player due to the influence of his brother, Jimmie Vaughan, a very successful musician who eventually went on to a great career with groups such as the Fabulous Thunderbirds, and as a solo artist (the brothers occasionally played together, as well).  After playing for years in Texas blues bands, SRV's talents drew him greater attention.  His style was heavily influenced by guitar giants such as Albert King, Jimi Hendrix, Buddy Guy and Kenny Burrell. Stevie's band, Double Trouble (named after a song by Chicago bluesman Otis Rush) began to play before larger audiences.  Around this time, Nile Rodgers, who was producing David Bowie's album Let's Dance recruited SRV to play lead guitar on the record.  Popular songs like the title track, or "China Girl" are typical Bowie numbers, but then these bluesy guitar solos drop in as if from outer space, and that's Stevie.  Around this time songwriter Jackson Browne invited Double Trouble to his studio to record their first LP, Texas Flood. Many consider that this record and the ensuing albums Couldn't Stand The Weather, Soul to Soul, and In Step (which won a Grammy) were rare lights in the darkness of 80's synth-pop.  It is unquestionable that Stevie Ray Vaughan's popularity helped bring some older bluesmen out of the wilderness and gave them greater exposure (especially to white people like me).  SRV often played in public with Albert King and Buddy Guy (who was on the bill at the final concert) and loudly proclaimed his debts to the older generation.
One of the biggest tragedies of SRV's death was not just that he left so much unrecorded music in his short life, but that he died just as he began to get his life together again after years of drug and alcohol abuse. Stevie disappeared from the scene in the late 80's when his addictions got the best of him, but he emerged from seclusion in 1989 with a triumphant tour with guitar legend Jeff Beck.  Friends of mine asked me if I wanted to go see the show in Foxboro, MA, but I was a poor college student and didn't want to spring for the ticket, feeling that I would have plenty of time to see them later.  It is one of my major regrets…
Stevie's last album, In Step (1989), was a brilliant album filled with rollicking blues, Buddy Guy songs, and beautifully soulful tunes.  I remember driving with a friend when the song "Crossfire" came on the radio, and I thought "is that Albert King?" before realizing that Stevie had returned.  On his final concert tour he would take time to rap with the audience during his song "Life Without You" about his recovery, and for the need of everyone to overcome the demons that hold us back.
Stevie Ray Vaughan played his last show as part of an all-star appearance at Eric Clapton's concert in Alpine Valley, Wisconsin.  He shared the stage with Clapton, his brother Jimmie, Buddy Guy and Robert Cray, finishing with a rousing "Sweet Home Chicago".  By all accounts Stevie played his best that night.  After the show the artists and crew boarded four helicopters to fly back to Chicaco; three made it back, but the one bearing SRV (as well as Clapton's tour manager and other associates) got lost in the fog and crashed into a ski slope, killing all aboard.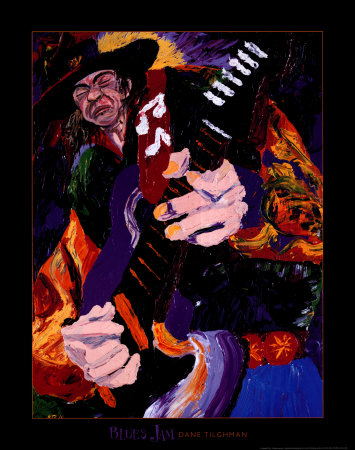 © Dane Tighlman
There are lots of Stevie Ray Vaughan videos on YouTube.  Do yourself a favor and check them out sometime.  His passion, virtuosity and joyfulness are evident to me in every note he plays.  I have a framed print of SRV hanging over my guitar collection and I look at it all the time when I play.  Though thankful for all that he left behind, twenty years on, I still miss him.  Rest in Peace, Stevie.
Hits: 602